museletter #78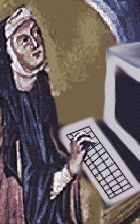 Hello muse Friends!
seasons & a muse wish you a cozy and inviting winter!
---
BREAKING NEWS!
seasons & a muse are developing two BRAND NEW screenplays!!
Our founder Jeanne Marie Spicuzza is now repped by WILD MODELS!
Watch for Jeanne Marie at RAPP SALOON in Santa Monica on January 22 at 8:30 p.m., and be sure to check out "Helen" now playing at Sundown Lounge!
---
... AND OTHER COOL STUFF!
Our founder Jeanne Marie Spicuzza is listed in Novels and Stories: Webster's Quotations, Facts and Phrases by Icon Group International!
THE SCARAPIST voted among best titles on IMDb!
---
BADDA-BING!
seasons & a muse are actively seeking project capital! Visit our schedule & opportunities page, or email us for more details!
---
MOLTO BENE!
seasons & a muse and LIBRI Publishers bring you MY ITALIA by Jeanne Marie Spicuzza, a poetic travelogue based on the author's hilarious experiences in her family's native Italy! Includes "Confession," "Sicilian Monopoly," "Italian Theatre" and more! Now available at the muse store and Amazon.com! Viva, Italia, alla famiglia!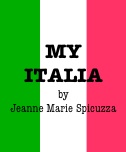 50% of the first printing has already SOLD OUT!

Jeanne Marie Spicuzza reads LIVE selections from MY ITALIA! Check out our schedule & opportunities page for details!
---
BREATH OF GOD
Audio segments from the major motion picture, currently in active development, BREATH OF GOD: The True Story of Hildegard von Bingen by Jeanne Marie Spicuzza were selected for "The Dinner Party," the famed feminist exhibit by artist JUDY CHICAGO! Go see this and more on permanent collection with the Brooklyn Museum! Don't miss it!
Join Hildegard von Bingen, Jeanne Marie Spicuzza and Stefanie Naifeh at "The Dinner Party" today!
---
LIVE THE GOOD LIFE!
Check out the online muse store for *HEALTHY and HAPPY* muse-inspired products and services!
---
Jeanne's
ONLINE REAL-TIME MOVIE-MAKING JOURNAL
PART II
After returning from a second trip to Hildegard's native Bingen in August 1998, I discovered an exciting new development. Walking past High Winds Bookstore in my native Shorewood, I noticed a CD entitled 'Lux Vivens'. My favorite filmmaker, David Lynch, had produced a recording of Hildegard's music! I contacted his production offices, and David has been supportive ever since.
By December 1998, I knew I had to move to Los Angeles.
JEANNE
(turns to friend, Wendy)
If I don't, I'm going to die.
I applied for an apartment I'd found online, located in downtown Westwood, off of Wilshire Boulevard. The application required a non-refundable credit check fee and hefty security deposit. The day of my big performance at Thai Joe's, I received confirmation from the landlord: I was in. There was no turning back.
Much of the screenplay for "BREATH OF GOD" had already been researched and written. I'd taken in large doses of Hildegard's life and work, traveled to Bingen, studied formatting using a Word program and books by Syd Field and Christopher Vogler, and received help from friends Alita and Peter. The title emerged from Hildegard's own words, "Thus I am a feather on the Breath of God." Voice-over would flow over images of Hildegard's vision. My vision. Our vision. It hit me like an inspiration. The title stuck forevermore.
But I'd been racking my brain for months to come up with the right actor to portray Hildegard's counterpart, a strong and loving monk named VOLMAR. Three friends and I went to see Todd Haynes stunning and wonderful tribute to Glam Rock, "Velvet Goldmine". I remember a preview of a little-known film entitled "Little Voice". I saw the name "Ewan McGregor" appear on the screen in the lower left-hand corner just as I'd visualized the opening credits for "BREATH OF GOD": white font, black background. I thought, Hmmmm... that little "Trainspotting" boy... This was before the days of "Star Wars" prequels and "Moulin Rouge"! And right at that moment, my friend Jennifer leaned over and whispered to me.
JENNIFER
I just had a flash of seeing your movie in the theatre.
Things were coming together...
MORE TO COME...
---
PREVIOUS museletter EDITIONS
Autumn 2009
Jeanne's ONLINE REAL-TIME MOVIE-MAKING JOURNAL, PART I
---
LINKS WE LIKE - FEATURED SITES
Larry Winnfield brings a unique and exciting podzine filled with of music, spoken word and much MUCH MORE!
---
"Jeanne Spicuzza"
Get the Golden-Headset Award-nominated CD "Jeanne Spicuzza", now available in MP3 format!
You can also find the SLAM-winning sensation, "(Men Succeed Where Women Are) SLUTS" on an AWESOME compilation by Ladyfest Belgium organizer and Riotgrrrl Nina at Echo Records!
---

seasons & a muse
P.O. Box 5849
Playa del Rey, California 90296-5849
U.S.A.
Or email us!
"The currency of civilization is Art." – Stella Adler